I have an old cook book without a cover or title page, is there a way to identify it?
If your cook book has no standard identifying standard marks (title page, publishers marking/imprint, author, location) you might still be able to identify it. We find books like this from time to time. Physical description notes in catalogs of major collections (national libraries, university libraries, special collections housed in archives and museums) are gold.
Take a physical inventory: number of pages (including any frontispiece material, last numbered page) and actual size (height, width, depth). Include any blank pages bound in the volume, noting where they appear.
Check the physical printing/paper used. The older the book, the more "pourous" the paper. Ink itself may appear imprinted deeply. Typeface offers clues, as well as typographic conventions (18th c. sometimes adds marks at the bottom of right-hand page to indicate recipe is continued on the next page). As a general rule, the older the book, the better the quality paper & more likely it is to be in excellent readable shape.
Illustrations? If so, where & of what?
Arrangement: index in front or back? How are the recipes grouped? Is there an introduction? Advertisements included? Special section devoted to invalid, Lenten, medicinal, food preservation recipes?
Recipes: Title, ingredients, method and presentation offer the best clues for approximate dating. Subtle nuances of method for popular recipes (macaroons, sally lunn, &c.) are key for tracing evolution & ultimately dating the item.
If your book is completely manuscript (hand written) then recipes are your best clues. Also...where/when was the item purchased. Can you trace to possible original owner (either documented or by inference)?

Cook books used in Early America were published in Europe and major urban American centers: New York., Boston, Philadelphia, Baltimore. Recipes in those days were often copied verbatim from one author to another (forget trademark infringement!). Please note: many popular cook books through time offer several editions, revisions, publishers, and authors. We would be happy to help you determine an approximate date/identify your cookbook if you are willing to share information outlined above. It would also help if you could scan a few sample pages with the popular recipes. Who knows? We might be able to match it up!

How much is my old cook book worth?
The Food Timeline DOES NOT provide valuing services. Those services are provided by professional antiquarian booksellers, licensed appraisers, and auction houses. Free online sources for approximate values are used booksellers (Alibris, AbeBooks, UsedBookCentral, etc.) and EBay. Antique Trader's Collectible Cookbooks Price Guide/Patricia Edwards & Peter Peckham, provides price ranges for selected popular American books. Used/old book stores often have sections devoted to cookooks; check to see what the "going" retail rate is. Check item carefully for year published and edition.

Please note: the value of old cook books, like anything else, is based on what buyers are willing to pay. Most mass produced cookbooks from the 20th century have low value on the open market. Of course, there are exceptions. Autographed copies, first editions, limited or special editions, are generally worth more than subsequent counterparts. Pre-20th century cookbooks generally have more value because they are harder to find.

In all cases, condition of the item plays a key role in determing value. Original binding, covers, dust jackets, no missing pages, no writing (unless the owner was famous), no stains or obvious wear.

Whether you're selling or buying, it pays to do your homework!

Who designates "national" food days?
"National" days (food or otherwise) are declared by one of three sources:
1. Federal government (in the USA this means the President signs an Executive Order (EO)designating a day, week, month dedicated to a particular topic. There is no limit to the number of EO in any given month. Topics are selected by legislators and organizations who want to promote awareness (School Lunch Month) or economic activity (a food designation generally promotes folks engaged in agriculture, transportation, retail and/or foodservice). EOs can be issued annually (Thanksgiving Proclamation) or one time. EO online.
2. Industry associations declare national days to promote products. Example: National Sandwich Day
3. Companies declare national days to promote their products.

Tools for research:
1. Chase's Calendar of Annual Events (found in many public libraries, but it is a challenge to find a library with a backrun). Entries are arranged by day, indexed by title and subject. Entries provide information regarding the originator of the day. Use Chases to track first and last instance of a particular day. This is interesting and detailed research because some "national" days actually change date and sponsor.
2. Historic newspapers (National and local) are great sources for announcements and details, especially regarding ad campaigns and/or contests. Your local librarian can help you access.
3. If you already know who sponsors the days on your list, contact them directly. Most have media kits and are happy to share.

How do I become a food historian?
Food historian is a niched career field. That's why you won't find information on what we do and where we work using standard career reference sources. While some schools (universities/culinary arts schools) offer classes in food history studies, there is no certification or specific degree for this career. [NOTE: some universities offer graduate degrees in gastronomy.] Many practictioners (but not all) have college/advanced degrees. These degrees center on history, anthropology, women's studies, English literature, sociology and library science. We are drawn to food history for different reasons. In some cases, food history "chose" us. Please note: many professional food historians have full-time "day" jobs to pay the bills.

Where do food historians work?
Universities: professors of antholopology, history, food/culinary science, sociology, women's studies
Libraries: Schlesigner/Harvard, UIowa, Michigan State, Johnson & Wales, New York Public, CIA
Living history museums: Colonial Williamsburg, Monticello, Old Sturbridge Village
Foodservice: historic inspired restaurants & catering services
Publishing (academic, consumer & trade publications in print/e-media): editors, authors, fact checkers, content providers
Private consultants, freelance authors, & entrepreneurs: historic cooking classes, media consulting (theatre props, television shows), presenting speeches to organzations etc.
Corporations: archivists preserving company heritage: General Mills, Coca Cola
Culinary history organizations meet in some cities. They offer educational programs, topical lectures and excellent networking opportunities. Some food historians join the International Association of Culinary Professionals (IACP). This organization offers a food history roundtable. It also manages the Culinary Trust, a non-profit organization devoted to preserving our culinary treasures and promoting scholarly research projects.
What's the difference between a food historian and a culinary historian? The latter is also a professionally trained chef. The first group can study it; the second group can actually cook it. More or less.
---
Welcome to the Food Timeline's answer service

Send us your food history question!
foodtimeline@aol.com

Service notes
Service is free and welcomes everyone.
We welcome questions on all aspects of food history, including product introduction/pricing & recipe recovery.
24 hours turnaround. Deadlines accomodated. If you don't hear from us, check your spam mail.
Food Timeline master index: topical & alphabetical.
Who is Lynne Olver?
A food historian with a masters in library science. Since March 1999, Ms. Olver has welcomed 30 million readers and answered 24 thousand questions. She works regularly with students, teachers, media, culinary professionals, cook book authors/editors,living history museums, and the general public worldwide providing original content, background material, fact checking services, and document delivery. She is regularly tapped by journalists writing for the Wall Street Journal, New York Times, America's Test Kitchens, Cooks Illustrated, Sunset and Saveur. The Food Timeline was selected by Saveur as one of the top 100 sites (2004). Details on the FT's origin and evolution chronicled by Heritage Radio (Brooklyn NY) & Culinary Types/TW Barritt. Ms. Olver is a contributor to the Oxford Encyclopedia of Food and Drink in America (Second Breakfast, Mock Foods) and Gastronomica "The Truth About Clams Casino".

Note: Ms. Olver is not a chef. Culinary training (if you call it that!) was a 4 year stint as a short order cook in college. She is an intuitive cook who views recipes as starting points for personal inspiration. Her dishes have no recipes, no names. Some work out better than others. None of them can be replicated. If we're lucky, life gives us a few delicious chances to experiment. When the results taste good, huzzah!
---
FoodTimeline library owns 2000+ books, hundreds of 20th century USA food company brochures, & dozens of vintage magazines (Good Housekeeping, American Cookery, Ladies Home Journal &c.) We also have ready access to historic magazine, newspaper & academic databases. Service is free and welcomes everyone. Have questions? Ask!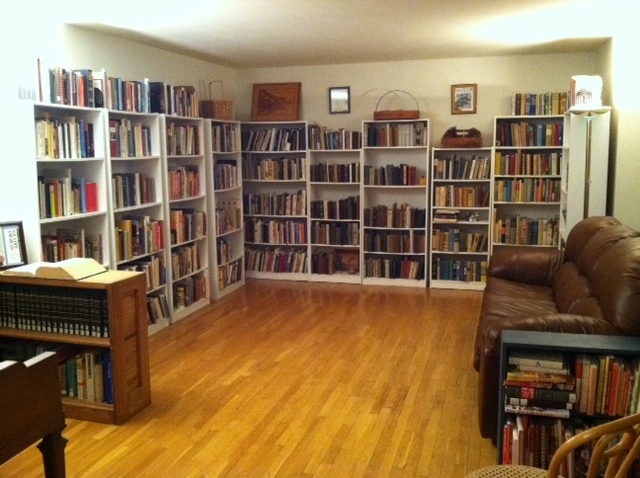 About culinary research & about copyright


Research conducted by Lynne Olver, editor The Food Timeline. About this site.